Wednesday, August 15, 2012
Checklists could smooth Hawaii election procedures
by Larry Geller
Stuff happens. When elections re involved, we voters get concerned. We expect the process to be flawless. But quite often, stuff happens. At this writing there are still issues around the late opening of the polls on the Big Island.
Before you click away, know that I have a suggestion that I think will help. And it's not at all radical: The Office of Elections should create checklists for the counties to use.
Yup, an old-fashioned checklist. Even doctors are using them now. I wanted to elaborate on this first since I suspect that nearly all readers know by now that "something" went wrong on the Big Island on Saturday, primary election day in Hawaii, and that there will be recounts. The polls opened late, there was a mix-up in deliveries, and who knows what else. There is even an allegation of a discrepancy in the vote count between printouts. So far, the local election official responsible isn't talking publicly about what happened.

Checklists—old fashioned and yet modern
Checklists work. Medicine is increasingly adopting them. Here is a comment on the value of checklists in the operating room:
However, in one case where he was preparing to remove an adrenal tumor, the anesthesiologist realized during the checklist rundown that extra blood might be required but was not on hand. The blood was delivered to the OR — and the patient did need it during surgery. "I'm convinced that the fact that the anesthesiologist caught that was what saved this man's life," Gawande says, adding that his team averts at least one potential problem via the checklist every week.
Research supports the effectiveness of checklists in medicine:
New research published today in the New England Journal of Medicine found that when surgical teams heeded a simple checklist — as pilots do before takeoff — patient-mortality rates were cut nearly in half and complications fell by more than a third.
Indeed, the widespread use of checklists began when airplanes became too complicated to fly unless a large number of things were done in a precise order. Here's a tiny fraction of a checklist for a 727-200:
Don't try flying a 727 yourself from this—it's a snip from a multi-page checklist. You'll need the rest before your first flight.
Surgeons use checklists with actual check boxes. One section might have, for example, the contents of a surgical kit listed up. The surgeon checks that each part is in there. If a certain Hawaii doctor had done this, he might not have implanted a screwdriver shaft in a patient's back when he discovered, during surgery, that his kit was incomplete.
According to a wrongful death lawsuit filed earlier this month, Ricketson was about an hour into Iturralde's back surgery when he discovered the titanium rod he intended to implant was missing.

The suit alleges that Ricketson grabbed a stainless-steel screwdriver, used a hacksaw to cut off the handle and a piece of the blade, and then inserted the piece into Iturralde's spine.

Days later, the screwdriver snapped in half.
Ok, I admit that nothing would have helped this doctor. But you get the point.
Here's part of a simple checklist, from the World Health Organization, for use by anesthesia staff:
Ok, you understand my suggestion. Basically, the Office of Elections should create and provide checklists for use by county elections officials and others. It would be a multi-year process to approach perfection. Still, a pretty good checklist could be created by gathering a small group of election workers to contribute their experience. Probably, in use, each checklist would have to be signed and date-stamped, or at least, the time and date recorded on each sheet. Each person involved would have to collect their checklists well in advance of election day, not on that morning.
Now, some more on election-day errors.
We reported in 2008 that equipment and election materials were left unguarded at a polling place on Maui, based on a "leak" received. The leaker included photographs. Here is a tabulating machine, a Hart voting machine, and a box of stuff left unguarded at the Haiku Community Center, right near the kitchen: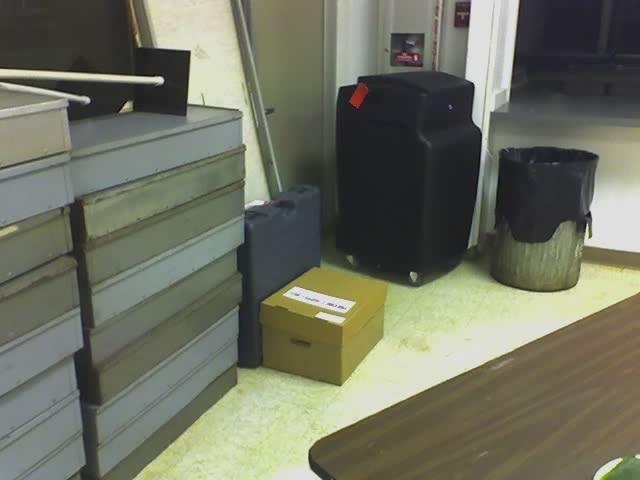 Click the link for more pics and the story.
Opening the box (which confirms that they were not secured) the photographer was able to identify Hart memory cards, ballots, security seals, provisional ballots and registration forms. Yup, anyone could have rummaged through the box and even taken some ballots home, or stuck the memory cards in their own computer. Did anyone meddle? We cannot say they did not.
Another issue: voting machines reprogrammed during an election.
So yes, I think the Office of Elections has problems, as those responsible for practically every complicated endeavor may experience. The idea is to minimize problems as much as possible.
So I've made my suggestion.
No charge.
You're welcome.