Tuesday, June 04, 2013
Putting Wonder Blunder in perspective—City blows $8 million of taxpayer money
by Larry Geller
I was impressed, reading the Civil Beat story HUD Nails City For $8 Million In ORI Mismanagement Fiasco (Civil Beat, 6/4/2013) for the second time, at how we set priorities around here. The story includes a copy of the HUD letter to Mayor Caldwell, dated June 3 (just yesterday! Good catch, CB).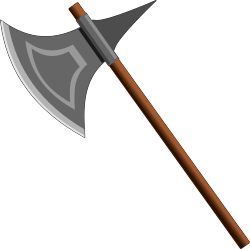 When the UH lost $200,000 in a probably avoidable error over the bogus Stevie Wonder concert, it was such a big deal that UH leadership was dragged before a star-chamber at the state Senate. The fallout included the (also possibly avoidable) expenditure of far more in legal fees and other expenses, and likely contributed to the resignation of the UH president and the need for an expensive search for her replacement.
So now comes the City and County of Honolulu, grossly mismanaging $8 million of federal grant money (check out the article/letter) which it will have to return.
Will there be a star-chamber called on this one? Will the Mayor be dragged before any committee?
$8 million is much more than $200,000, so I would expect full TV coverage and all the works, such as an actual operating guillotine in the corner, for example.
(photo: Adam Jones Adam63, CC license 3.0)

That would only be fair. Let's keep things proportional.
Any bets on whether there will be any consequences at all?
Comments:
Can I add to your perspective ? UH Pres makes half a million a year, Mayor makes $150,000 a year, so one would expect that the higher paid individual would make less costly mistakes. I mean isn't that why we pay these government execs so much ? So that they can make less costly mistakes ? Who says government work doesn't pay well ? Additionally, if you were in a staff position and you made a $200,000 mistake, you would probably be let go, but if you are in the Exec level making 6 figures, then you will be retrained for something that you should already know since you are making 6 figures. Could this be the reason for low voter turn out in Hawaii ?
Could be. Note, though, that Greenwood did not make the mistake. This doesn't hurt your proposition, though--the one who did made more than the mayor
Caldwell received the letter but this was an ongoing problem years before he took office several months ago. In fact I believe the ORI problems began before he even entered politics. A Mayor could certainly be brought before the Star Chamber but it won't be Caldwell.
<< Home